First Class – Miss Evans  2019/2020
Recommended work for Week 30th of March – 3rd March
Hi girls,
Hope you are all keeping safe and well! I never realised how much I would miss school J  I hope ye are all doing a bit of school work at home, as well as playing outside and relaxing! Here is some work and a few fun activities for you to enjoy.
To parents – please feel free to send on any pictures of your child's work, on Class Dojo. I set up a link and forwarded it to you through dojo message for your child's portfolio  – if that doesn't work, you take a picture on your phone of the work and forward it to me I can comment and give feedback 
English
Two Little frogs – Unit 18 Rapunzel Pg 72 – 75
Jollyphonics – Pg 50 – 51 (alphabetical order, ou words)
Reading – Read a book that you have at home – write a book review – template(www.twinkl.ie-bookreview)
Phonics: Sounds like phonics – An online phonics programme for Junior infants to second class – free access to digital games and ebooks         slp.cjfallon.ie
Writing – Write about your week – what did you do? I would love to hear about what ye have been up to since we are off school 
Make a smoothie/fruit salad if possible – write down the instructions.
Story – "The Day the crayons Quit" By Drew Daywalt. You can watch the video on you tube          https://www.youtube.com/watch?v=ZttMDho5HMw      Did you like the story? What was your favourite part?
Maths Extending and using pattern – counting in twos, fives and tens Pg 125 – 127
If you would like a challenge try counting in threes/ sixes!!
www.topmarks.co.uk caterpillar ordering
The hundred square – Pg 128 – 130
www.topmarks.co.uk – 100 Hunt – this is a great game for number pattern , finding 10 more or less than a number
Irish Sa Bhaile – Pg 61 and 62
Twinkl.ie – powerpoint "Cá bhfuil Niamh?", Around the house word mat gaeilge
History The Life of my grandparents Pg 82, 83 – now might be a good time to call a grandparent and ask them a few questions about when they were younger. If this is not possible you can ask your mom or dad these questions.
Science –  Irish Wildflowers Pg 84
The next time you are out for a walk or at the park see if you can find any of these flowers. You might even have some in your garden!
If you are feeling adventurous here is an experiment
www.sfi.ie design and make lava lamp – you need vegetable oil, water, food colouring, alkaseltzer/vitamin c tablet – this may be a little messy J
PE Go noodle
Joe wicks – you tube, every morning at 9am there are kid friendly workouts and exercises, you can also rewatch at a different time.
Cosmic yoga – you tube
Art
https://proudtobeprimary.com/easter-bunny-directed-drawing
This is a lovely step by step drawing lesson on how to draw a bunny – send me a picture if you complete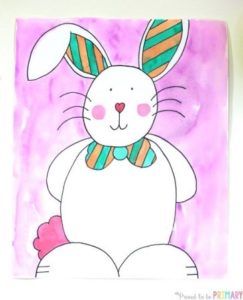 If you get easter eggs – hold on to the wrapping – you can make a collage with the wrappers.
Make your own playdough –
8 tbsp plain flour
2 tbsp table salt
60ml warm water
Food colouring
1 tbsp vegetable oil
www.bbcgoodfood.com/howto/guide/playdough-recipe
Hope this helps and stay safe 
Ms Evans
.