Ms.Sparling's Third Class
(please scroll down to see Ms. Sugrue's scheme of work for March 30th to April 3rd)
Dear Parents,
I hope you are all safe and well at this time. Please view the schedule of work in the third column for your daughter to complete from next Monday March 30th.
Please note that this is suggested work to do. The children are not under pressure to complete all of it. Other additional activities – tin whistle practise, library reading, free writing, board games and lots of exercise.
Thanks,
T Sparling  
March 18th -20th

 

Busy at Maths

Look Back 3 pg 41

Look Back 4 pg 62

Tables: X9

 

TT pg 17

TT pg 18-19

 

March 23rd-27th

 

Busy at Maths

Look Back 5 pg 77

Look Back 6 pg 91

Tables: Divide by 3

 

TT pg 42- 43

TT pg 20-21 Revision

MC pg 44-45

March 30th- April 3rd

 

Busy at Maths

Look Back 7 pg 109

 

Tables: Divide by 6

 

TT pg 44-45

TT pg 46-47

MC pg 46-47

Gaeilge: Bua na Cainte

Leabhar Litrithe

Pg 7-8, 23-24,

 

Gaeilge: Bua na Cainte

Leabhar Litrithe

Pg 35, 11, 13

Gaeilge: Bua na Cainte

Leabhar Litrithe

Pg 25-29

 

Read at Home

pg 95-96 + Q1-5

Read at Home

pg 97-100 + Q1-5

Read at Home

pg 101-104 + Q1-5

 SESE

*Practise Mountains and Rivers of Ireland

 

*Research facts about an animal / person

 (report writing)

ENGLISH / SESE

Get Set: 'Deserts in Africa'

Read pg 182-185

Do Ex B + C pg 186

Do EX C pg 187

(Do Exercises in SESE Hardback)

ENGLISH / SESE

Get Set: 'Superfast Animals'

Read pg 206-209

Do Ex B + C pg 210

 

(Do Exercises in SESE Hardback)

Maths Games Apps: IXL / Topmarks e.g. Hit the Button

Spellings + Sentences

1.     Story + glory

2.     Fold + scold

3.     Roam + foam

4.     Cloak + coach

Spellings + Sentences

1.     Sorrow + borrow

2.     Broke + poke

3.     Score + shore

4.     Fuel + cruel
Hope you and your families are all keeping safe and well. I am missing you all and am so looking forward to being back at school with you again.  I'd like you to revise these positive songs below to help get us through these next few weeks and we will have a great singsong when we return.
Stay safe,
Warmest wishes,
                               Song List
I'm a Believer – The Monkees
Yellow Submarine – The Beatles
Don't Worry , Be Happy – Bobby McFerrin
Always Look on the Bright Side of Life- Monty Python
Let it Be – The Beatles
Jumbo Breakfast Roll – Pat Shortt
Nothing More – Alternative Routes
Miss Sugrue's Third Class
Scheme of Work – March 30th to April 3rd
Hello girls,
I hope you are all staying safe, helping around the house, and using your imagination to make your own fun. I miss you are all very dearly, but don't worry we'll be back to hard work and debating before you know it! Here is some work for the week ahead. I am giving you creative license as always; so try your best, stay positive, be kind and keep smiling.
'I am not afraid of storms, for I am learning to sail my ship'.
Ms. Sugrue <3
Useful Websites:
Scoilnet,ie
ie
Cúla4.com
ie
Go Noodle
National Geographic Kids
Nasa Kids' Club
I am an Artist
Maths:
Maths Challenge: next 4 tests. Test 74-77.
Table Toppers: pg. 20-21 (Divide 9s).
Revise all times tables (time yourself, make your own target board).
Attached multiplication/ division worksheet.
Action Homework: play boardgames, puzzles, exercise 10 mins every day, make up a dance routine, set up a shop in your room, measure items around your house using a ruler, make 3D shapes using paper etc.)
Gaeilge:
Revise 'Cad and Ceard' and 'Na Seasúr'.
Briathra: practice knock out at home.
Briathra: Make 6 sentences using at least 2 briathra (e.g. Chuaigh Daidí agus Rossa ag siopadóireacht san ionad siopadóireachta, agus cheannaigh said ispíní, arán, glasraí agus im.)
Learn : 1. Dhúisigh mé – I woke. 2. Dúirt mé – I said.
SESE:
Keep working on your FairTrade Research Projects.
Complete your persuasive letter writing to the local Supervalu. Read it out loud to someone at home.
GET SET:
'How it all Began' pg. 188-193 reading. Pg. 196 Ex. D, E.
197 Ex. G. Look at Ex. H 'Flights of Fancy'. I would like you do write a book report- BUT! Based on the book you are reading at home at the moment. So include; the name of the book, the setting, the main characters, what happens in the story? Is the story line exciting? Do interesting things happen in the story? Would you recommend it to a friend? How many stars out of 5 would you give it? Does the author use adjectives and descriptive words? Etc.
Spellings:
Clue
Statue
Value
Argue
Venue
Tissue
Rescue
Continue
Put each word into a detailed, descriptive sentence. Use Adjectives and a mix of 'said' words.
Also, your flowers are being well looked after and are growing strong. Hopefully we'll see beautiful flowers soon!

Symmetry Time!
We are enjoying using our iPads and laptops to explore symmetry during the Maths lesson.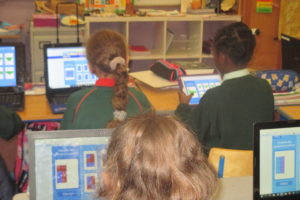 Enjoying a cup of tea after doing some procedural writing!!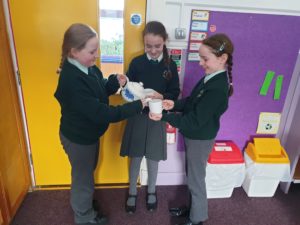 ---