We are currently working towards our Digital Schools Award in Glasheen and all pupils and staff are actively involved.
Tablets and Laptops in the classroom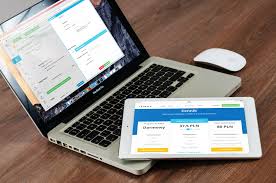 Here in Glasheen we believe that technology has an extremely important role to play in our pupils educational experience. Over the past two years we have made significant investment in improving our WIFI throughout the school campus. This investment has proved to be very successful as it enables the students to access the internet at a much greater speed. We run fundraisers during the school year to help raise money for new devices and software and are extremely grateful to our wonderful Parents Association for all their help also.
We are fortunate to have a mobile trolley in our school containing laptops and iPads for use in the classroom. A time is allocated to every class and the children are given the opportunity to use these devices to explore a wide variety of software reinforcing what is being taught in class and also to create their own digital content. The older pupils are shown how to use the internet as a valuable research tool for projects and topics being discussed in class. They learn also to critically assess the reliability of the information found on the internet and how to be a good digital citizen. They have created wonderful projects using a selection of apps. Videos and photographs of tours, visits and projects made during the year are a source of great pride to the students.
Coding in Glasheen
This year pupils will be introduced to Scratch, a programme used to write games, animations and stories. This is a wonderful way to develop their problem solving and communication skills.
Younger pupils will enjoy using BEEBOTS, A Bee–Bot is a colourful, simple-to-use programmable robot for young children. The robot is perfect for teaching simple programming concepts, controls, directional languages, sequencing, estimations and problem-solving.
Internet Safety
Here in Glasheen we are very conscious of the need to educate our pupils on how to use the internet safely. Regular lessons on cyber safety are given to the students as part of the S.P.H.E. Programme in school. During the year guest speakers are invited to speak with parents on this topic and feedback has been very positive. We celebrate Internet Safety Day in February every year in the school.
webwise is a very useful site for information on this topic.