WELCOME TO RANG
LE CHÉILE.
School year 2019/2020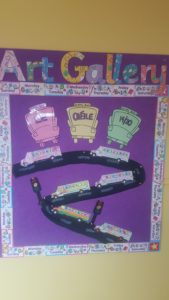 We would like to begin our school year by wishing our lovely friend Grace all the very best as she begins a new chapter in secondary school.
♥♥♥
So here we are once again. We are all well rested after all our travels over the summer, this year we have visited with our families  Spain, Italy. France, Portugal, London, Poland , Lazarotte, and Tralee .
We are delighted to welcome our lovely new friend Molly Ann.
We have plenty of plans for the months ahead.  Lots of learning. Lots of exploring, lots of mystery tours, but most of all lots of friendship and fun.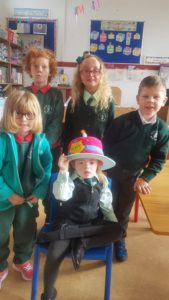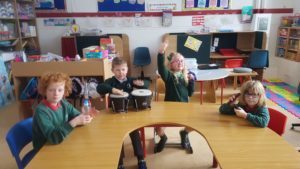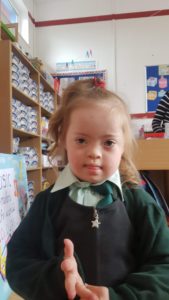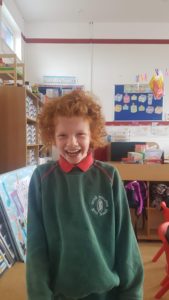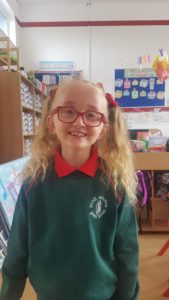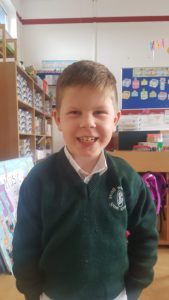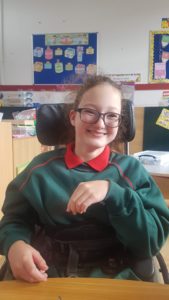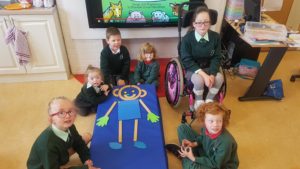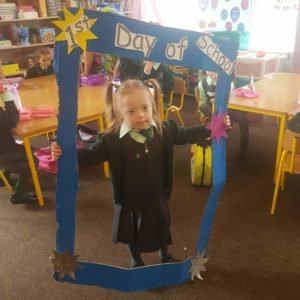 ______________________________________________________________________________
School Year 2018/2019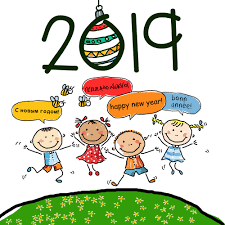 _________________________________________________________
Fun in the sun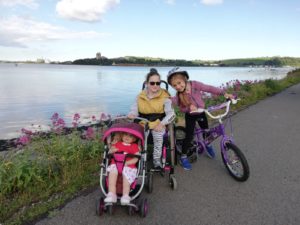 ___________________________________________________________
Caretaker of the year 2019
(Better luck next year Liam)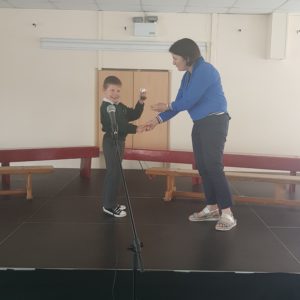 Communion Class 2019
& a visit to the Poor Clares.
___________________________________________________________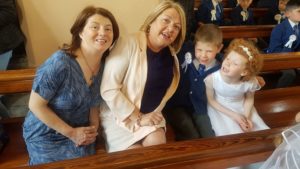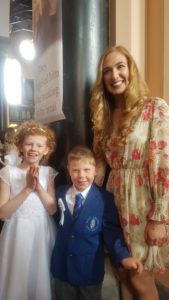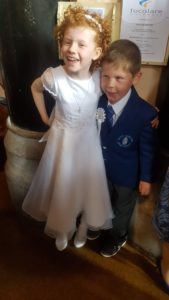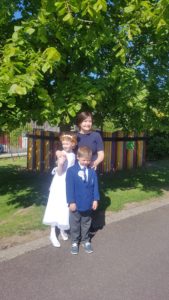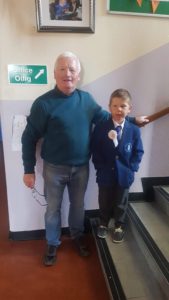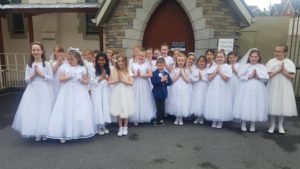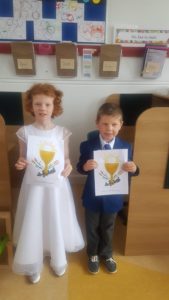 ___________________________________________________________
A visit to Grace's house
Thanks to Grace's Mom and Granny for having us around for Lunch.

Our Annual Gold Rush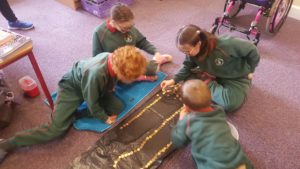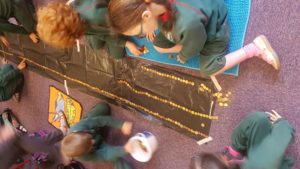 —————————————————————————————
Fun on the Air Track
We had a Fantastic time in the Yard when our Gymnastics teacher Dan brought an Air Track to school.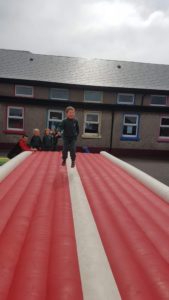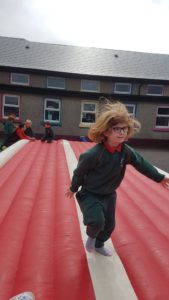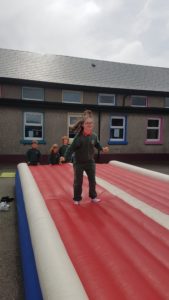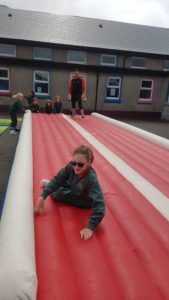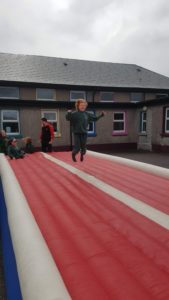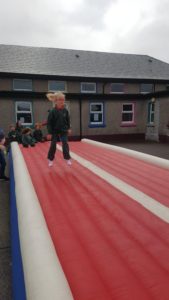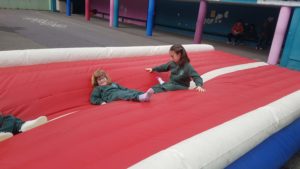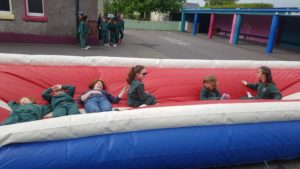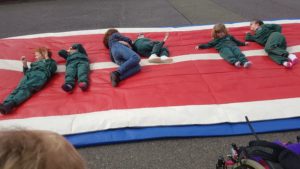 ___________________________________________________________
Chalk Shadows
It was such a beautiful, sunny morning. We took the opportunity to go outside and explore our shadows. We stood very still and drew around our shadows with chalk. Then we tried to fit into each other's shadows! It was so much fun.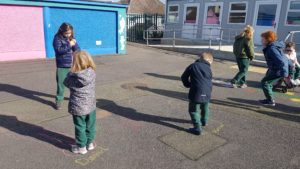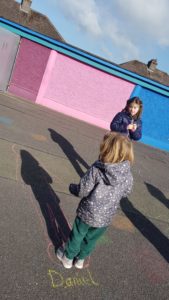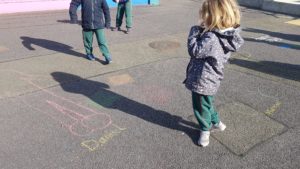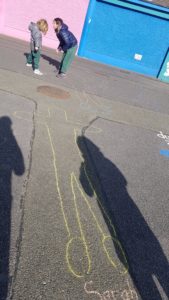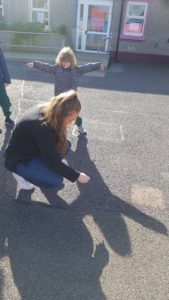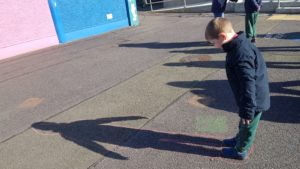 ---
Amber Flag
We are hoping that our school will be awarded an Amber Flag for Mental Health Awareness. In order to do this we will have various events. Our first job is to make Amber bunting. Every Class will draw what makes them happy on the flags. First, they muct be given the orange card. This job seems to big, it will never be done! The WHOLE SCHOOL! Who could we call ? 
LE CHÉILE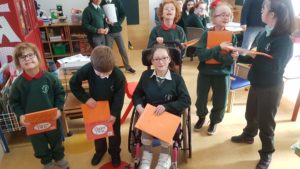 Next, an Odd Sock Day .


Has anyone seen Hazel's Smelly Socks?
---
Purple Day.
To celebrate World Downs Syndrome day, staff and children were invited to wear purple to school and make a donation to Downs Syndrome Cork. AS usual everyone raided their wardrobe and their pockets for a very successful event.
THANK YOU.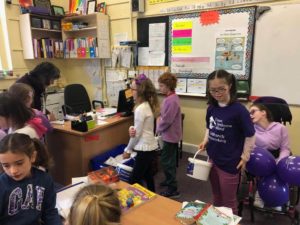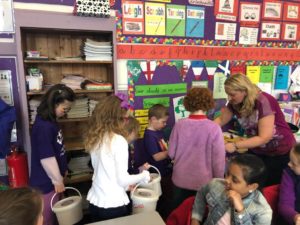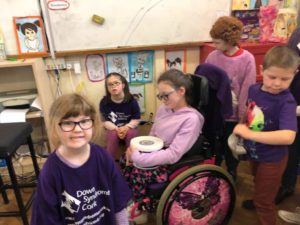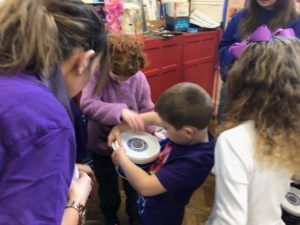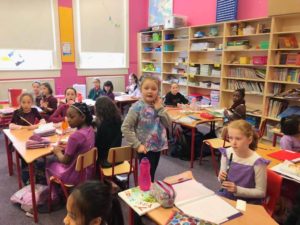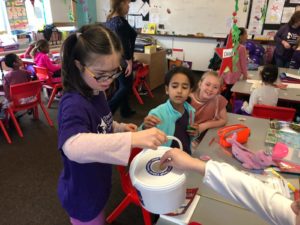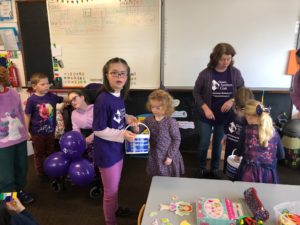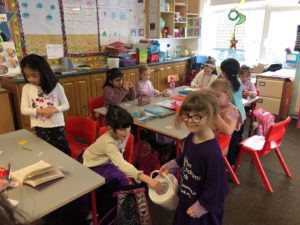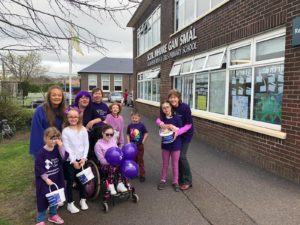 ---
Spring is Here.
Time to bring the Bikes out of the shed and knock off the cobwebs.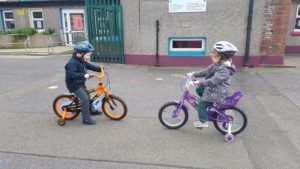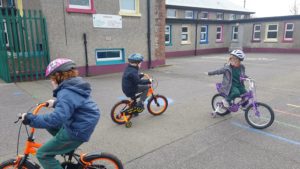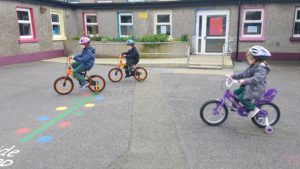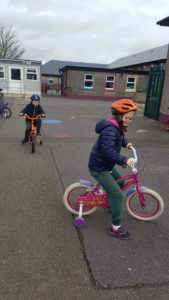 Come on Eleanor!!!! Time to give the bike back to the children now.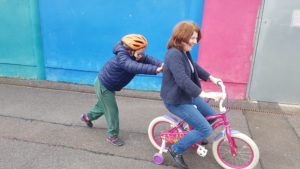 ---
---
Grace's Birthday.
In case Parade's and concerts were not enough,we then began Graces Birthday celebrations. We were delighted to welcome the girl's from 6th Class for a bit of song and dance. And guess what more Cake!!!!!!(Hazel will be thrown out of slimming Wold by Lynda Deady).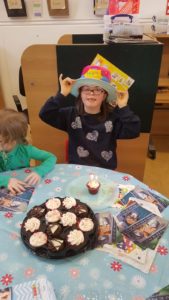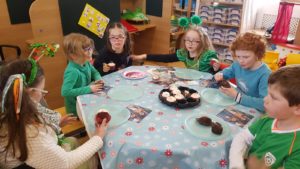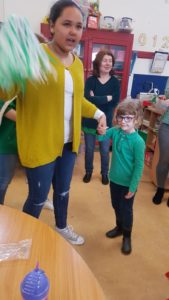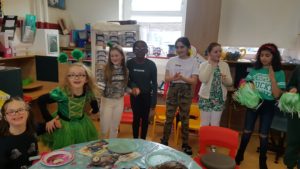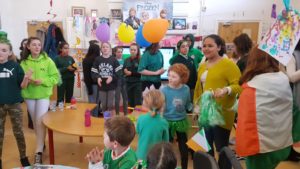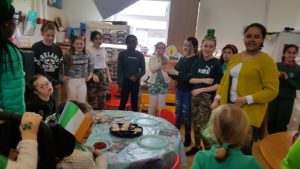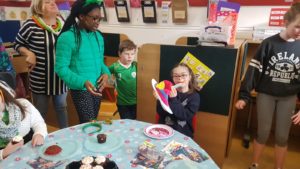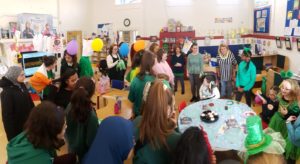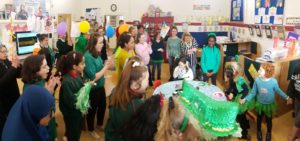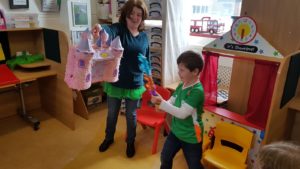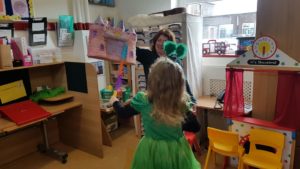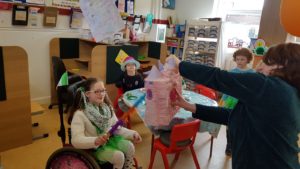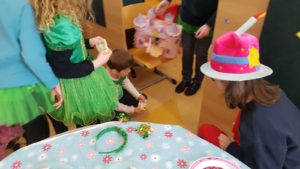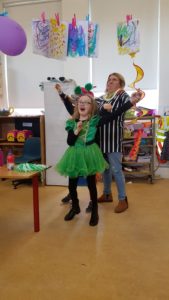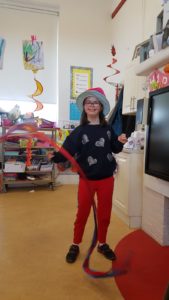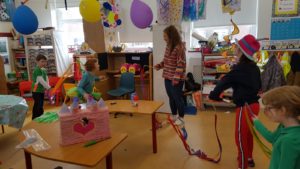 ---
St. Patrick's Day.
We all looked Fab dressed in our Green White and Gold .
We started our day with a trip to Junior Infants to see how our friends looked in their fancy outfits. We followed that with our St. Patricks day parade and then we had a St Patrick's  Concert in the Halla.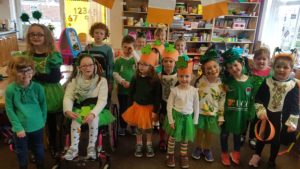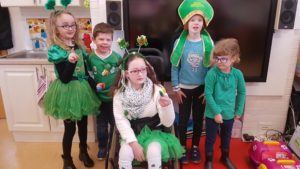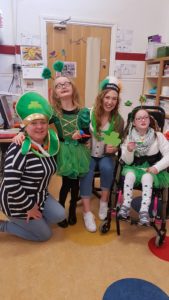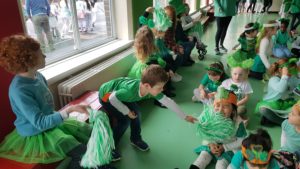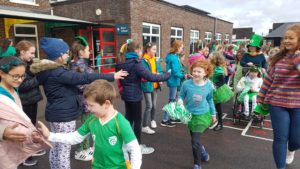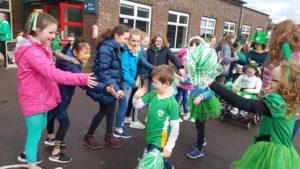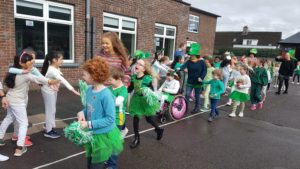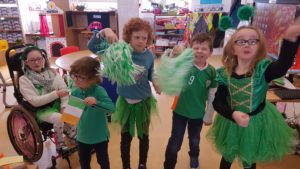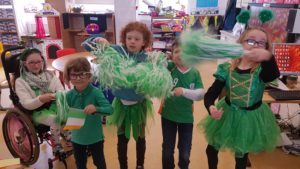 ---
---
A Mystery Tour.
On Tuesday 13th  of March we headed off from school. We took bus 205 and went for a little walk when we left the Bus . We came upon a few shops and decided to go see if we could get a cup of Tea there and have a sit down . We found a place called Little Rebels , this sounds just right for us. We went inside and when the man opened the door for us we couldn't believe our eyes. An indoor play area just for us.It was fab , two more buses and we arrived back in school.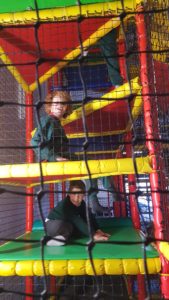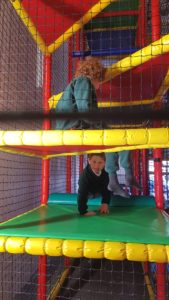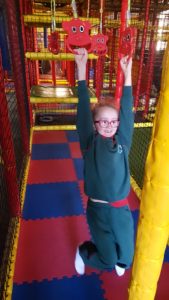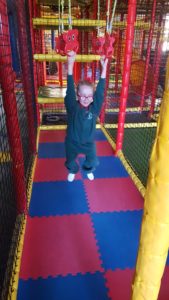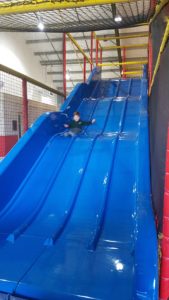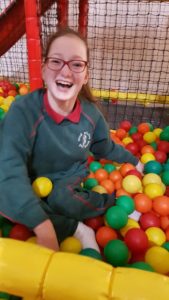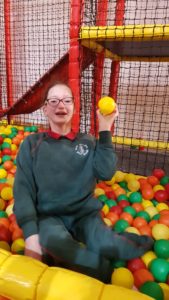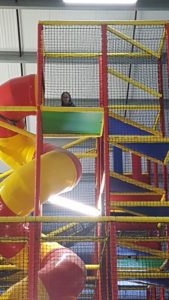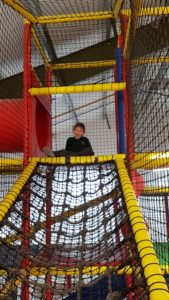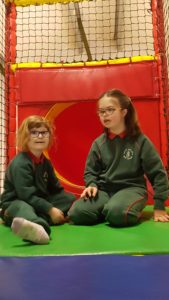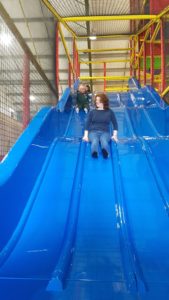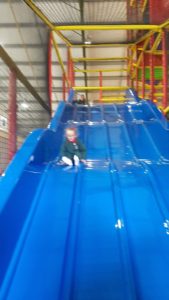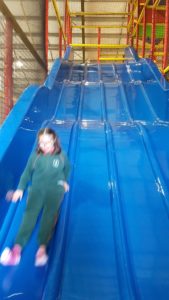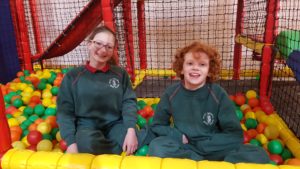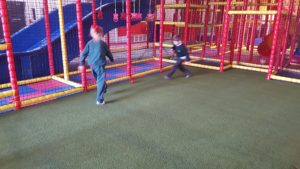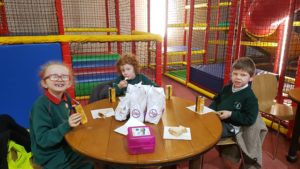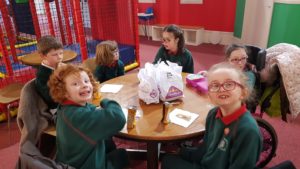 ---
International Women's Day.
We were delighted to Welcome MS. Murphy and her girls to Rang Le  Cheile. We had a bit of a party and a dance.  Hazel had ANOTHER birthday so cake on the lunch menu.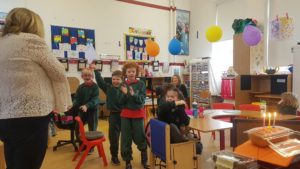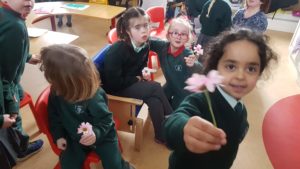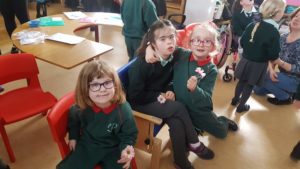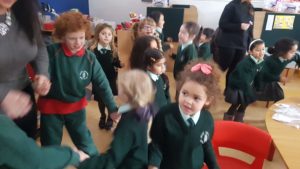 ---
Happy Birthday Martyna.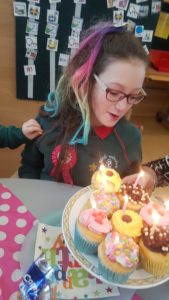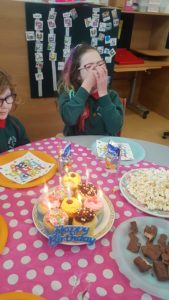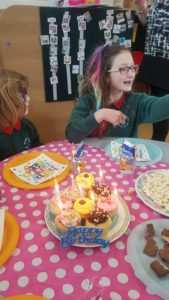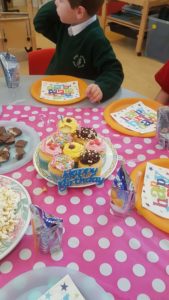 ---
Shopping for Pancakes.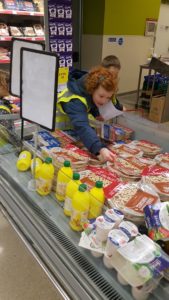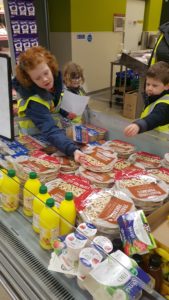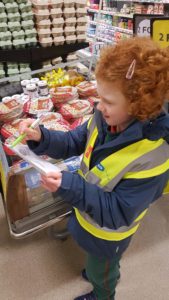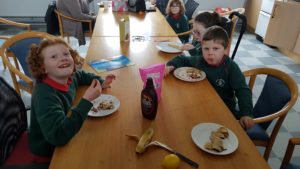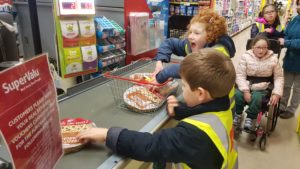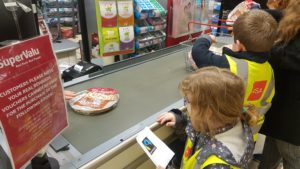 ---
A visit to the Teddy Bear Hospital.
UCC.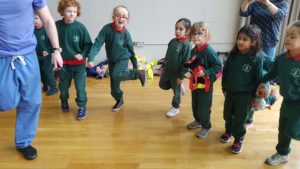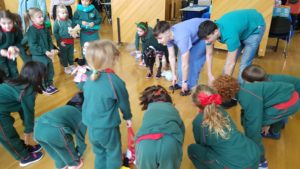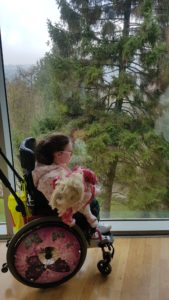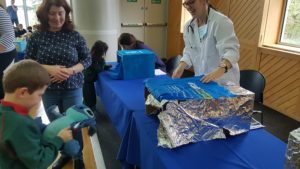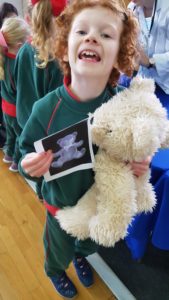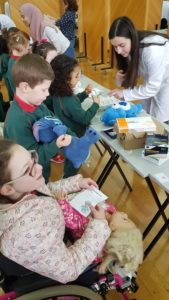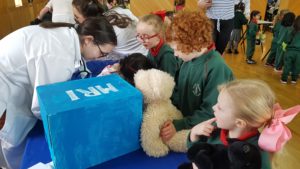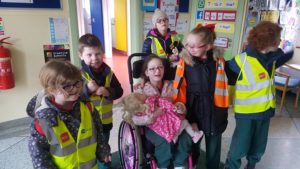 ---
Fair Trade Shopping.
Once again Rang Le Cheile have stepped in to help out the school.  The green school team are checking out Fair Trade in our local shops. Who better than Rang Le Cheile to go shopping.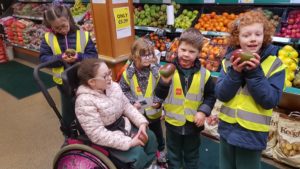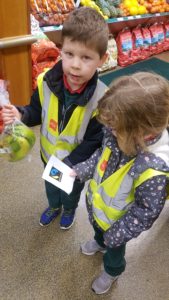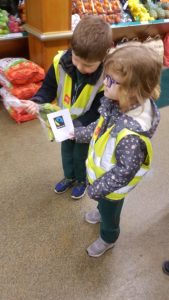 ---
 A trip to town .
We went on a Mystery Tour to town. We went on the local bus. Our first stop was Cork City Library where we read some lovely books. Our next stop was the English Market, (we thought there was something fishy about that place ).  We went on a food hunt and found lots of interesting and unusual things to eat. We rambled along St. Patricks Street, popped into M&S to congratulate The Manager (looks familiar) and staff on their 30 years in Cork. All of this meeting and greating has given us an appetite! We went in search of somewhere to eat, as luck would have it Muireann and Daniel found a McDonalds for us. Tummies full, we headed back to school.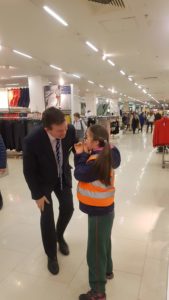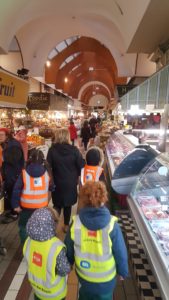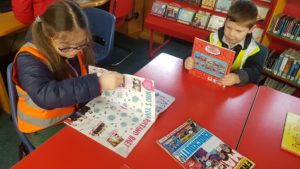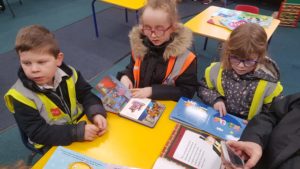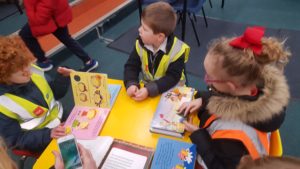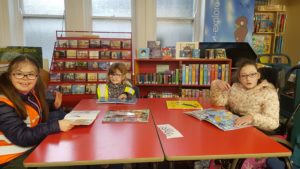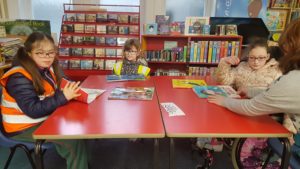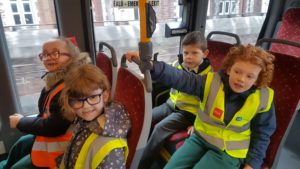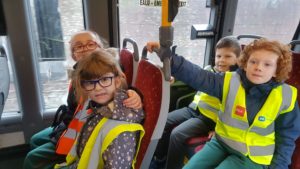 ---
Ukulele.
Getting a bit of practice in . Who knows maybe George Ezra may need a support act.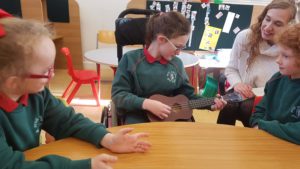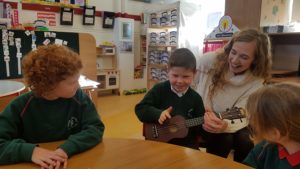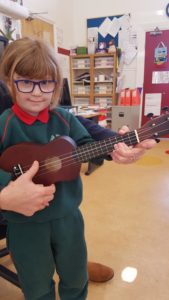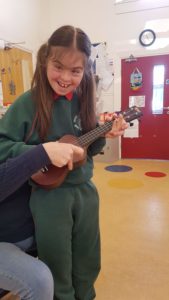 ---
Speech and Drama with Avril.
We  love our Speech and Drama class with Avril every Wednesday.
---
Happy Chinese New year.
We enjoyed the Noodles and making Chinese lanterns.

---
   A Trip to Mango.
We were delighted to bring Muireann down to Mango for her first visit with us.
---
---
Friendship Week.
We were delighted to join all our friends throughout the school for friendship day in the Halla. We proudly displayed our Art Work.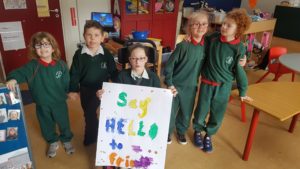 ______________________________________
Valentines Day.
Soooooo many Valentines for our Families. Then a trip to the post box.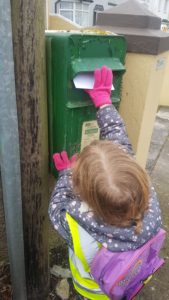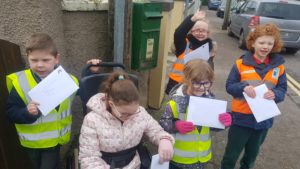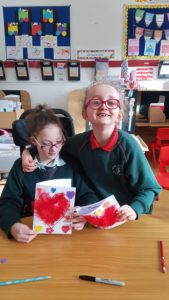 ____________________________________________________________________________
The Magic Box
It is great fun when teacher brings the Magic Box to circle time. We were delighted to find the ingredients for Breakfast Muffins today.
---
---
Scooting off to the kitchen for recipe.
Breakfast Muffins.
______________________________________________________________________________
Aistear Resturant.
 _____________________________________
Aistear Shoe Shop.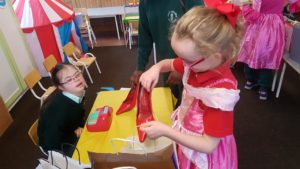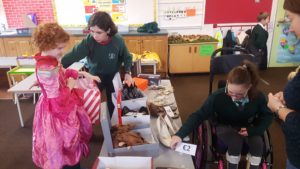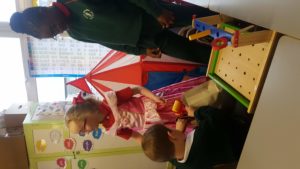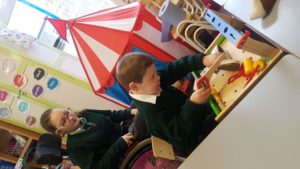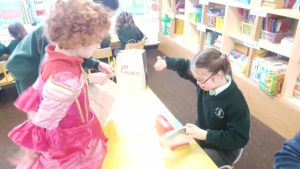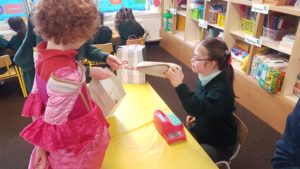 Daniel has a difficult customer here!!
______________________________________________________________________________
Winter in LE CHÉILE.

Teacher Eimear and Eleanor are wheeled out of the room. They are being very unfair. ( They want to do some work.) All teachers and our principal were invited to Le Chéile for New Year wishes. However, on their arrival they were suddenly hit by many snowballs. These kids are too tricky.
_____________________________________________________________________
Beauty Salon
Busy time in Le Cheile so many appointments in this beauty parlour (These adults are very demanding).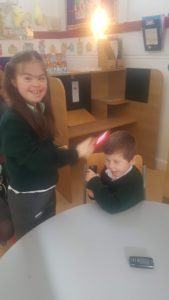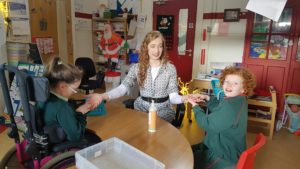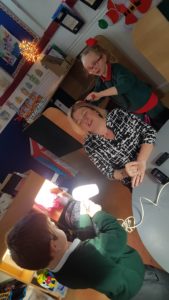 _______________________________________________________________
A visit to Douglas Library and Our favourite pancakes in 12 Tables.
We took the bus from school to Douglas. We had a lovely breakfast and then went to visit the library.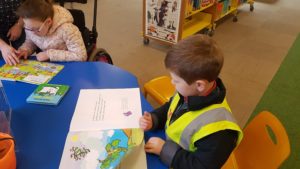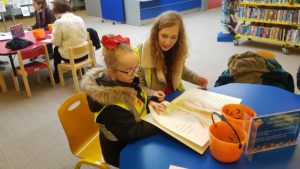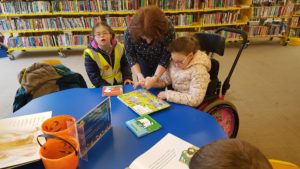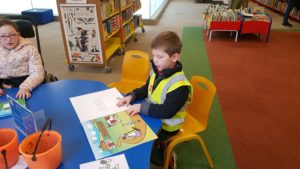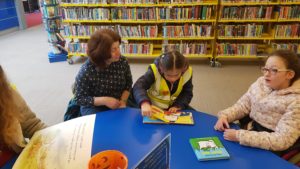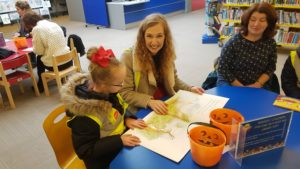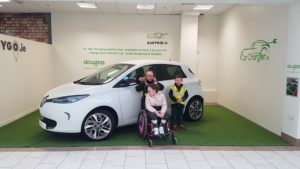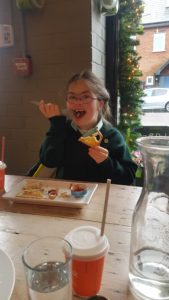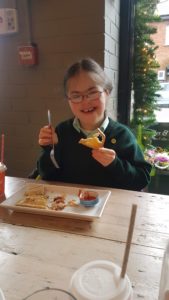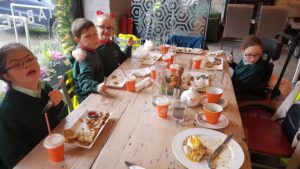 ================================================================
Christmas in Le Chéile
As with everything we do in Le Chéile, Christmas time was packed with activities, fun and laughter. So much to do so little time……….(next year we might get started in October for Christmas.)  Below are just a few photos. We visited Douglas Court Shopping Centre and Tesco Shopping Centre, Douglas. We went to Wilton Shopping Centre for our Annual trip to Santa where as usual Paul Wheelan (Manager) made us feel most welcome. We had our trip to Penneys and Hi Cafe.
We also had  Santa visit us when he went to the Playschool, thanks to all who organised that.  A few days later, Santa came back for another visit to the Halla. We sang a few songs for him. We also provided the sound affects for the Infant production of A Snowman At Sunset. Daniel and Sarah were the best Inn Keepers ever in the Nativity at The Lough Church (loved the hair gel, Dan.)
We also managed to fit in two or three breakfasts. Finally, thanks to  our parents for all the support they give our children and staff, thanks to our Principal Lorraine who gives us the credit card, and finally a Big Thanks to Garda Tony for our trips on the Bus.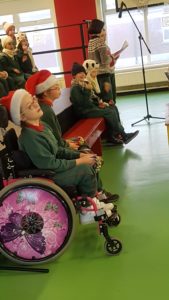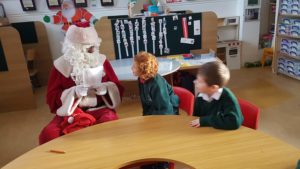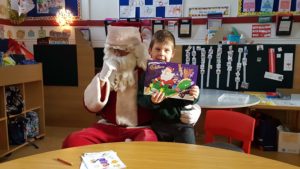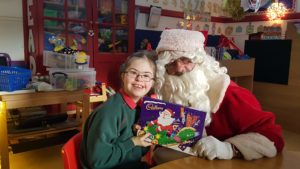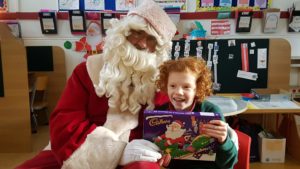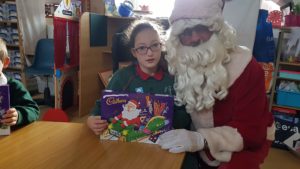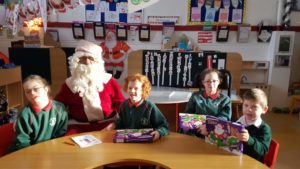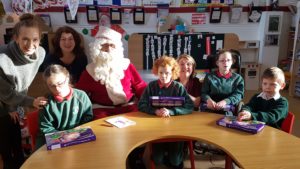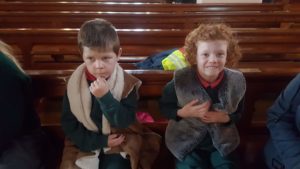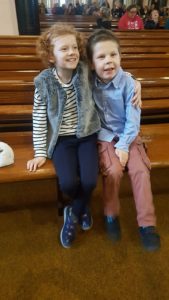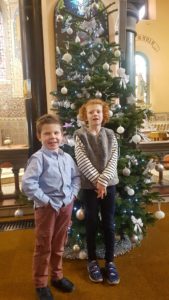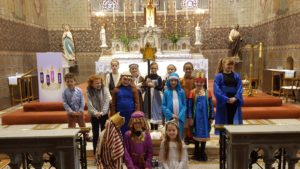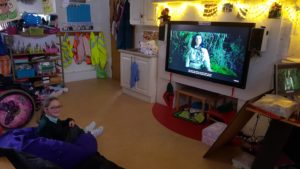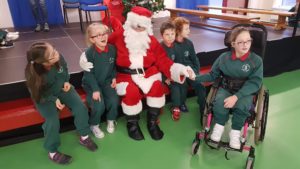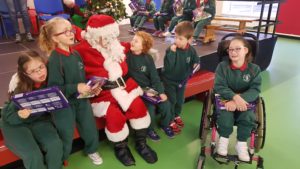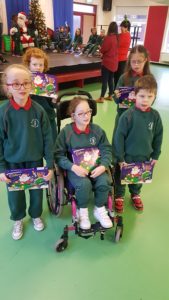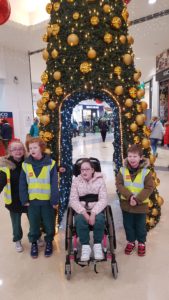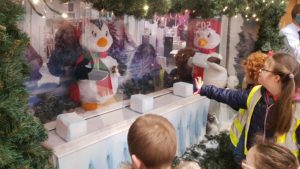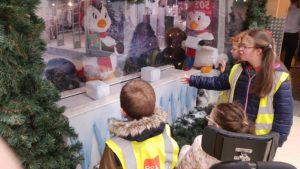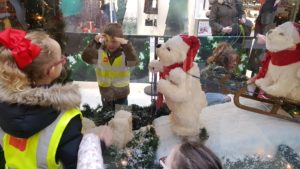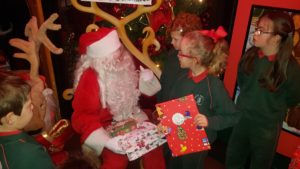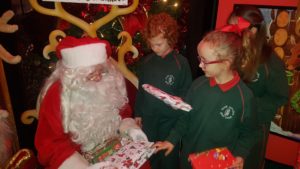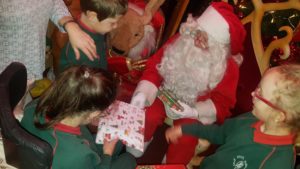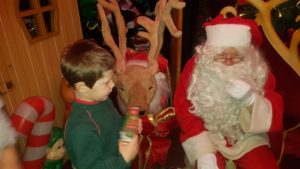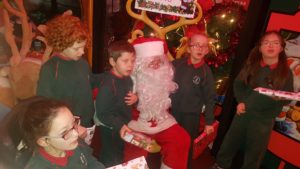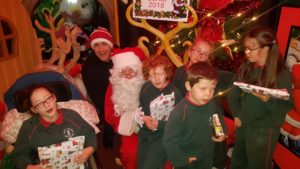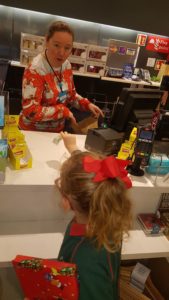 _____________________________________________________________________________
 
______________________

_________________________________________________________________________
A trip to Douglas.
Last Monday we went on an adventure to Douglas Village .
We went on the 206 bus .
In Tesco Shopping Centre , we counted Christmas Trees . We also met one of the three little pigs.
We then went on to Douglas Court Shopping Centre and there too its starting to look a lot like Christmas.
With all our shopping done , we decided it was time for lunch. We decided to go visit Mc Donalds Restaurant where we forced ourselves to have a Happy Meal.
______________________________________________
 Credit union Art Competition.
We worked very hard on our ideas, put a lot of effort in to our work.  We then delivered our work to the Lough Credit Union.
______________________________________________
Happy Halloween
Once again Halloween was brilliant in Glasheen School with a combination of spooky Gardens Trick or Treat Aistear with Ms O' Donovan's Class, and
ALL THAT JAZZ!!!!!
______________________________________________
Skipping Workshop.
Check out all our new skipping moves.
—————————————
Fun in the Classroom.
Class Photo's
Having fun with the The Peanut Ball, Bubbles, The interactive whiteboard and lots more….. Including a fantastic Puppet show.

---
A trip to Maxol.
We bought lovely food at our Local Maxol Petrol Station.
We then went for a picnic in the nearby park.  We collected a lot of Autumn Leaves on our walk. We Jumped in the leaves and had lots of fun.
   

——————————————————————-

Happy Birthday Daniel.
______________________________________________
 

A Trip to Cobh.

We began our journey with a walk to the Bus Stop. We waited all day for the bus, according to some of our pupils.( 20 Minutes).

We arrived at the Kent Railway Station. where every one was very kind to us.  We met a Train Guard called Pat and the train driver was called Noel.  Noel allowed us to go into the drivers cab and check out the console.
—————————————————————————–
 

Heritage Centre Cobh.

Breakfast

______________________________________
A very big Welcome to Ms. Eimear Fitzgerald, our new Class Teacher. We are delighted to Welcome her with her lovely smile and gentle nature.
___________________________________________________________________________
 

Bicycle time in the yard.

_______________________________________

 

Lord Mayor's Visit
We had great fun today chatting with the Lord Mayor, Councillor Mick Finn when he came to visit our school.
Thanks to Finbarr, the Lord Mayors Driver who left us all have a turn in the drivers seat,
——————————————————————————————–
RSA visit
Thanks to Cathal from the Road Safety Authority, for calling in to remind us on road safety.
______________________________________________
Heading off on the Garda bus on a  trip to Fota, with a quick stop at Bramley Lodge for breakfast.
——————————————————————————-
Breakfast in Le Chéile.
We are very busy, cooking sausages and buttering toast.
——————————————————————————————–
A trip to the Playground.
Shopping in Lidl.
We  choose Sausages, Bread and Butter and Fruit. ( I think their might be a plan .)!!!!!!!!
—————————————————————————————–
We are delighted to welcome back our pupils for our school year 2017/2018. It is fantastic to be back and ready to start the school year ahead. We must begin by welcoming two new pupils to Le Chéile Isabel and Daisy Lou . We also want to wish our two past pupils Peter and Harry the very best of luck in their new schools. We will miss their fun and laughter in Le Chéile.
We are also delighted to welcome our new Principal Ms. Houlihan
---
Summer Salad
As  helpful as ever . Le Chéile are Happy to try the Salad made by the pupils in 6th Class.
Yummy !!!!!!
---
Fota.
Last visit of the school year to Fota. We are on First name terms with some of the animals now.
---
CCFC
Two players from the Cork City Football team came to visit our school today with their Silverware . The children from Le Chéile were delighted to stand in for a photo.
---
Our New Bikes
Thanks so much to Sixth Class for helping us get our Bikes out of the rapping and ready to Go.

Next Stop Tour De France.
---
We visited the sisters in the Poor Clare Convent today with pupils from 2nd Class.
---
Thanks to Spike O Sullivan for coming  to visit Le Chéile.
---
Gold Rush.
We made lots of Money for our School at the Gold rush.
---
We had a Ball at the Pirate and Princess Party.
Thank you Ms.O Donovan and Junior infants for inviting us.
---
Making the most of the good weather.We enjoyed Story time in our outside Classroom followed by Ice -Cream.


_____________________________________________
Great excitement as the Children in Le Chéile get their invitations to The pirate and princess Party.

---
Miss Cork Tara Marie Nolan visits Le Chéile .

Hazel relaxes with her friends in Le Chéile …………OOPS it is
Miss Cork Tara Marie Nolan ….(What a likeness)!!

---
Aistear
The Birthday Party.
---
Thanks to all the Fundraising, we are delighted to work on our new I-Pads.

---
Culture Day.
Having Fun on Culture Day .
---
Isabel's Confirmation Day.



We love a good Party…..
---
Breakfast at 12 Tables.


---
Spring Trip to Fota.

---
 Marathon .
 
---
Aistear Vet.
---
Le Chéile Tea Party.
---
Easter Egg Hunt.
The Easter Bunny left lots of Eggs in our schoolAi?? Yard.
---
Happy Birthday Grace.
Thanks to Graces Mom for buying us lovely cupcakes to celebrate Grace's Birthday.
---
Teddy Bears Hospital.
---
Valentine Science.
Thanks to all our friends in school for showing us, and letting us take part in how different Science experiments work. We loved it.
---
Happy St. Valentines Day.
---
Pancake Breakfast at Mango.
---
New Games and Puzzles
for Le Chéile .
Thanks to Ms. Houlihan ….Who was more excited than the children with our new Games.
---
Scrambled Egg for Breakfast.
---
Kindness Week.
Rang Le Chéile , were delighted to win some prizes at the Kindness Week Ceremony in the Halla.
---
Aistear
The Restaurant
Thanks to Ms.Murphy and Ms. O' Donovan for inviting us to their Aistear Restaurant. We had a great time being chefs, waiters and customers in the Rainbow Restaurant.
---
Grandparents Day .
Eoin was delighted to see his Granny and Aunt at school today.
---
Credit Union Art Competition 2018.
Many thanks to the Parents and siblings of Le Chéile who came to St. Finbarrs Hurling and Football Club on Sunday 28th April.  Thanks also to the people at the Lough Credit Union for our Prize Money . We look forward to spending it.
---
From Everyone in Le Chéile.
xxxxxxxx
---
Christmas in Le Chéile.
Santa comes to the Halla.
We had a great Sing-a-long with Santa.
---
Santa in Wilton
Thanks again to Garda Tony and Garda Deirdre for bringing us on the Garda Bus to Wilton Shopping centre.
All aboard the Garda Bus
Many Thanks once again to Mr.Paul Whelan for organisingour Annual trip to Wilton to visit Santa. Thanks again to the staff in the centre ,from the Information desk to Penneys to Barrys Photography and Hi Cafe. We were treated wonderfully by all .
Shopping for fluffy Socks in Penneys
---
All this Shopping made us very hungry.
---
Aistear
The shoe shop
Thanks to Ms.O'Donovan,Paula and the girl's of Junior Infants for inviting us to their classroom . We enjoyed being Sales Assistants and customers .
---
Toasting Le Chéile style.
---
Happy Halloween.
The Fairies sprinkled Magic Dust. Our Pumpkin Patch came alive with Pumpkins in a few minutes.
Now these three "NEW GIRL'S "look familiar.
---
Pizza Time
We enjoyed making Pizza to the sound of Dean Martins" AMORE."

---
Ballincollig Regional Park.
Is it a bird?Is a Plane ?Oh no it's ,,,,ELENOR
Where is Teacher gone?
Let me down Laura.
Faster Garda Tony
BOYS WILL BE BOYS.
Delighted we brought sensible adults with us .
Thanks again Garda Tony and Ken.
---
Field of Dreams.
Many thanks to Ray and Brenda O'Callaghan for inviting Rang Le Chéile to the field of dreams in Curraheen and looking after us so well.
We were delighted with our visit . The Farm is amazing and truly inspirational .Many congratulations to all involved.
---
Fabulous Fruit Pot Friday.
What to choose !!!!!!
Liza helps Martyna to choose her toppings.
Daniel is delighted to meet Cara and Bola on this special day . Even more special as it was his Birthday.
---
Ai??The Lord Mayor comes to visit.
---
Having Fun in the Yard.
Really Teacher!!!!!!
---
Our first trip to Fota this year.
 Always time for a quick dance.
Our UCC student Laura, from Tipperary enjoys her first trip to Fota.
Feeding time for the Tigers.
A trip to the playground is always welcome.
We have seen enough ……we are off for lunch
Thanks again to Garda Tony and Garda Ken for bringing us to Fota.
-_
---
Autumn Art Time in Le Chéile .
---
Alpha Bite breakfast in Le ChAi??ile.
WHAT COULD THIS MESSAGE BE?
NEARLY THERE.
PHOTO QUICKLY
TOO SLOW YOU MISS O
---
Breakfast time in Le Chéile.
---
Our Easter trip.
In Le ChAi??ile we planned to go to Fota for our Easter Outing last Monday. Ai??Unfortunately the Weather was not kind to us and we had to change our plans. We decided to Ai??head to 'The Planet' in Blackpool for our day out.
Thanks again to Garda Tony who came to our rescue.
It was an Ai?? Eggcellent ,Eggciting, Eggstra Special day.
---
Cork Sports Ability Day 2017
Martyna Bachek trying out a Karate Session .
Sophie and Martyna meet County mayor Cllr. Seamus McGrath.
Martyna meets Lord Mayor of Cork Cllr Des Cahill.
---
HAPPY ST.PATRICK'S DAY.
We in Le ChAi??ile were once again very proud and privileged Ai??to lead the school's St Patrick's day parade. Ai??Once again Martyna Baczek was Grand Marshal . Ai??A great day was had by all .
The crowds begin to gather, awaiting the beginning of the parade.
Daniel waving to all Ai??his fans.
Thanks again to In Uí Bhriain and the Girls' of Second Class for making Harry an honorary band member for the parade.
Ai??Once again Martyna Baczek was Grand Marshal .
---
A visit to the Opera House.
Rang Le Chéile recently visited the Cork Opera House for the London production of Ben and Holly. As a special treat we brought Buddy the Bear from Ms O' Donovan's Junior Infants with us .
Oh No !!!!!!What's keeping the bus?.
Buddy and the children enjoy the trip on the bus.
Getting ready to go into the Opera House.
Buddy is dancing with delight.
All that singing and dancing has made us hungry.
Buddy and friends enjoy a Happy Meal.
Pancake Tuesday.
Thanks Ms Susuico for making us pancakes. YUMMY!!!!!!
---
Happy Valentine's Day
from Le ChAi??ile 2017.
---
6th Class Cake Sale.
---
Credit Union Art Competition 2016/17
It Ai??is with great pride and delight, we learned that the pupils in Le ChAi??ile won the National Ai??Group Prize in the Credit Union Art Competition .The theme this year was: Ai??"Dreams are made of this.."
Five Ai??of the children and their Families traveled to Croke Park on Sunday February 12th . We had a fantastic day . The Art Project that we won , will be in the Credit Union Calendar 2018.
---
Grandparents Day 2017
We were delighted to welcome Harry's Grandparents . Eoin's Granny and Sarah's Granny and Aunt Ann.
Harry's Granny looking very chic wearing a necklace designed by Harry.
Peter welcomes Harry's Grandad.
Eoin and his Granny enjoy some music time in Le Chéile.
Sarah was delighted to see Granny and Aunt Ann at school.
---
Aistear
Restaurant.
Grace and Peter browse the Menu.
Martyna checks out the kitchen.
Construction of the restaurant is helped along by Sarah and Daniel .
Once again we were delighted to be asked to take part in Aistear Ai??Restaurant.
---
Ai??Robotics
Many thanks to Ms.Somer's and the girls from 6th who invited Peter along to try out the Robots in the Halla.
---
Credit union Art Competition

Congratulations once again to the Children in Le ChAi??ile. Ai?? They have once again won Ai??First Prize in the Credit Union Ai??Art competition, (Special Class Category).
---
Ai??Aistear Christmas
Many thanks to Ms O' Keeffe & Ai??Ms O' Donovan for inviting our pupils to take part in their Aistear programme .
---
Santa Visits Glasheen.

---
A visit to Santa at Wilton.





Once again Many Thanks to the Management and staff of Wilton Shopping Centre , for their warm welcome on our recent visit to Santa.
---
Ai??Daniel meets his cousin in Tesco.

---
All aboard the Coca Cola express.

---
Aistear
The Elves and the Shoemaker.
Martyna tries on shoes, while Daniel takes charge of the orders and checkout.
A visit to the local Maxol Filling Station.

---
Ai??A Trip to Chuckies .
Once again a big THANK YOU to Garda Tony Kelleher from Anglesea Street Garda Station , who brought us to Chuckies on the Garda Bus.
---
POP UP Halloween Disco .
On the last day of our first term, we had a POP UP Disco , as part of our efforts Ai??to achieve The Ai??Active flag . Ai??Always up for a dance are the pupils of Le ChAi??ile . But wait a Minion who is dancing with us.????
Happy Halloween from everyone in Le ChAi??ile.
---
Full Attendance Certificates.
Congratulations to Grace for achieving her Full Attendance Certificate.

---
Thanks to our UCC student Vanessa for the fantastic Sensory Box's.


---
Ai??Gallery October.
---
Friends visit
If it is raining outside friends come to visit Le ChAi??ile
Who is the Jack in the box.???



---
Ai??Fota Wildlife Park.
We started off the year with a trip to Fota. Thanks again to Garda John Long from Bishopstown Garda Station , who drove us on the Garda Bus to Fota with his usual good humour and patience.
Time for a quick snack.
Time to play .
What's keeping that train?
Back on board the Garda Bus.
Goodbye to all the animals , we will be back !!!!!!!
---
Visit to Supervalu Togher.
We heard on the grape vine that things were very busy in Supervalu, and a few friends might be needed to help. Ai??So we headed off to see what we could do .
Such a busy time.
Time to head back to school , and have a slice of well earned Pizza.
---
Breakfast in Le ChAi??ile.
We invited some friends from 6th Class for breakfast. The children from Le ChAi??ile prepared the table , and cleaned up the kitchen when we were finished.
---
The Lord Mayor's Visit .
We were delighted to welcome The Lord Mayor of Cork .
Cllr. Des Cahill to our school.
Should the Lord Mayor's driver Finbarr need a day off , the friends from Le ChAi??ile would be happy to oblige.
---
Ai??Gallery September.
---
Ai??Ai??People who help us .
The Postman.
We are delighted to welcome our Postman Finbarr back to Le ChAi??ile. Thanks for bringing Ai??all the letters to our school.
Lollipop Lady.
Thanks to Margaret our Lollipop Lady , who helps us all to get to school safely.
Wardens of the future , Martyna and Peter checkout the Lollipop.
---
Eat your heart out Picasso,Monet,etc.etc.
Art in Le ChAi??ile.
This is a piece we made for Mr John Ryan on the occasion of his retirement.
DR SEUSS!!!!!!!!!!
THREE LITTLE PIGS CONSTRUCTION.