We are keeping a log of all the science activities we are doing during the school year.
Miss Murphy's Junior Infants really enjoyed finding minibeasts in our school garden!

Rang 2 experimented with different materials to see which one would help a toy car travel further.

We loved our biodiversity talk and minibeast hunt!
 
Rang 5  really enjoyed their trip to the Life-Time Laboratory.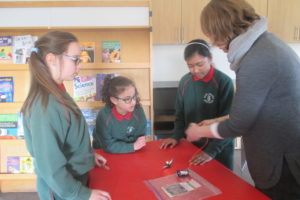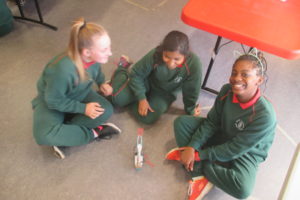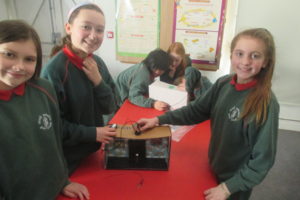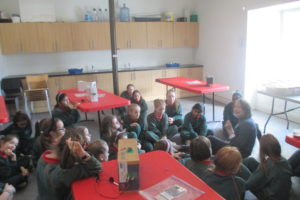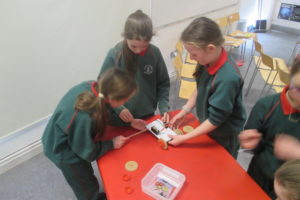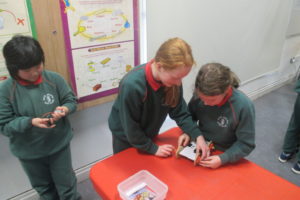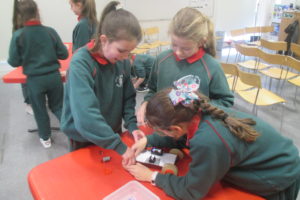 Ms. Mills First Class
During Term 1 Ms. Mills First Class enjoyed some very interesting science activities.  The girls investigated the school garden biome during Heritage Ireland's visit to the school.  They found lots of living things in different locations in the school garden.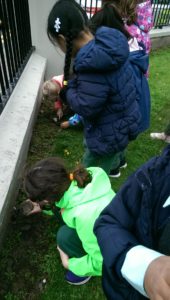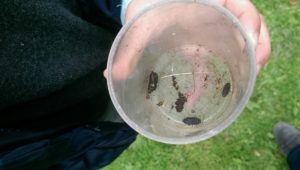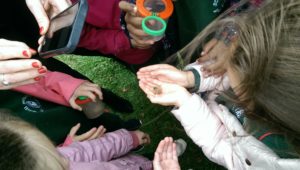 Well done to Kate who presented her advice on preserving the world's biodiversity during assembly.
As the First Class girls studied Tom Crean's trip to Antarctic, they wondered how the great explorers kept warm in the very cold temperatures.  That got us thinking about insulators and conductors.  The girls hypothesized about different materials and chose to investigate newspaper and tinfoil.  To ensure that they conducted a 'fair' test, they measured (maths!!) equal amounts of water into three plastic gloves, tied a knot in each glove and froze them overnight.  Next day they removed the frozen 'hands' from the freezer and wrapped one in newspaper, another in tinfoil and the third was left unwrapped.  All three were placed in the same location away from direct light and heating sources (at the same room temperature).  The girls found that the frozen 'hand' wrapped in tinfoil melted faster than the one wrapped in newspaper.  The unwrapped one melted very quickly.  They concluded that the tinfoil was a better conductor of heat than the newspaper and it transferred the heat of the room to the frozen 'hand' inside.